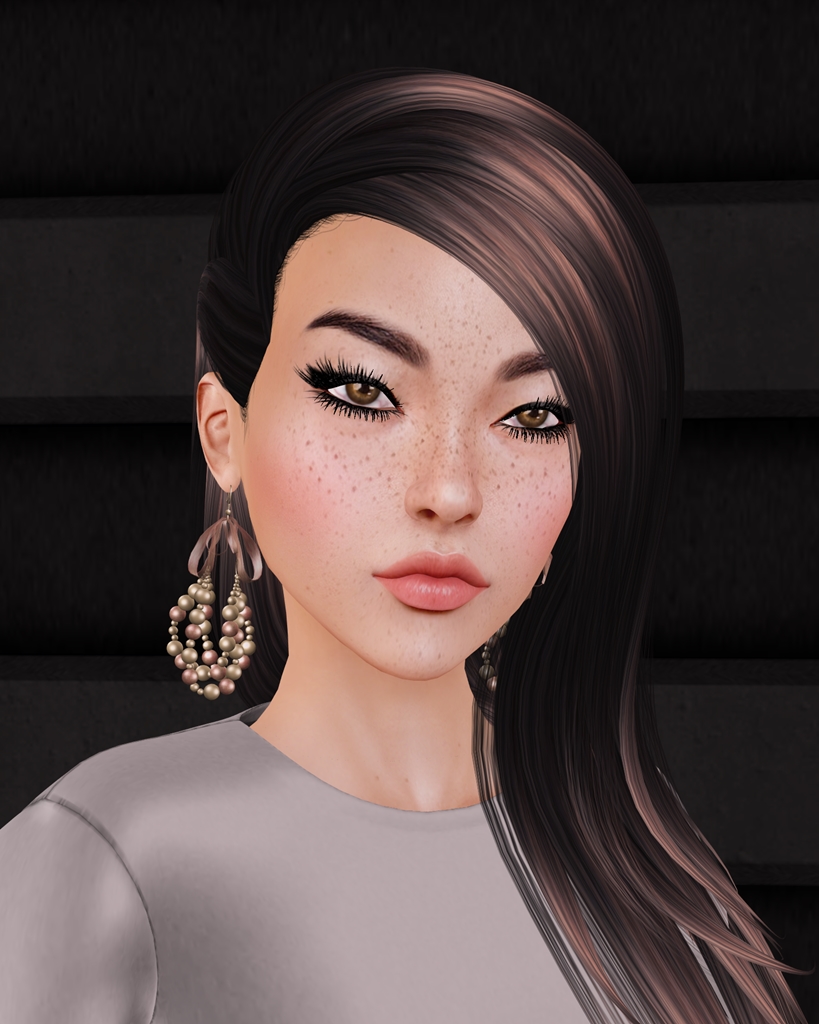 Just when I thought I would dismiss buying a mesh head, I came across this skin applier for Lelutka mesh head at TheSkinnery and I fell in love.  The freckles, the thick eyebrows and the lips are so cute.  I am Asian, so it's always exciting to find Asian skins for my avatar.  Definitely the variety of Asian skins available has increased over the years with far more choices than when I first started SL in 2007.   Perhaps I should do a post showing you some of the Asian skins I have found along the way.  Anyways, I still prefer my classic avatar face over my mesh head.  I just feel more unique and different, but I am sure I will be wearing my mesh head quite often.  Mesh just photographs so well.  Today's pictures are mostly raw shots directly from SL.  The best part is no more annoying shadows and odd shapes around the nose.  By the way, my hair stylist today is Tukinowaguma.  It is one of my go to hair stylists these day.

The look is mainly from Ricielli, all hunt prizes from the End of Summer Hunt at their main store.  Find 20 pink balls containing some gorgeous outfits, shoes and accessories.  The heels, bag and dress are from the hunt.  The mesh dress is called "Francesca" so I had to share it with you.  Yes, I am a narcissist!

Look at the detail of the bag and shoes, I love it!  I actually have the original bag which this bag was inspired from in RL. 🙂  It's my day to day work bag.

Just a close up shot of my toenails and shoes…  I wanted to show you the gorgeous nail appliers for Maitreya from alaskametro<3.  These are only L$25, and appliers for Maitreya, Slink, Eve and Omega are included.   The HUD allows you to choose from 5 different finishes in 5 different colors.  I am wearing ombre glitter finish on my hands and crackle finish on my toes today.

– CREDITS –
Hair: Tukinowaguma – Fyokla Brown at Cosmopolitan
Mesh Head: Lelutka – Mesh Head Stella
Mesh Body: Maitreya – Lara
Skin: TheSkinnery – Natsumi (Lelutka Applier) Honey
Eyes: KMADD – Naturals Brown Studio Eyes Small
Make Up: Izzie's – Mesh Alpha Lashes
Manicure/Pedicure: alaskametro<3 – Metallic Pack Nail Polish Maitreya Applier Classic/Gold
Earrings: Magic Nook – Baroque Earrings (Rose)
Outfit: Ricielli – Francesca Dress Nude (Mesh)  *Summer Hunt*
Bag: Ricielli – Luggage Tote Gray
Shoes: Ricielli – Savia High Heels for Maitreya Beige  *Summer Hunt*
Poses: GlamRus – Laney 6 at The Dressing Room
Location: Ricielli
Music: Washed Out – New Theory (RAC Mix)